*Ahem* Hey.
Being in the unknown: resources, practices + aggressive dancing
I have been silent for months.
Last year, I used my childless privilege to leave a full-time job and pursue writing. A smart or stupid decision, depending on how you look at it, but back then I had a bunch of money in the bank and was eager to just do what I'd been dreaming of my whole life. I got busy writing and cracked open the Girl Tracy file.
(An aside, if reading books featuring strong women as the lead is how you get through, I got a giveaway for you. Check it out.)
Fast forward to now and, well, I am still here.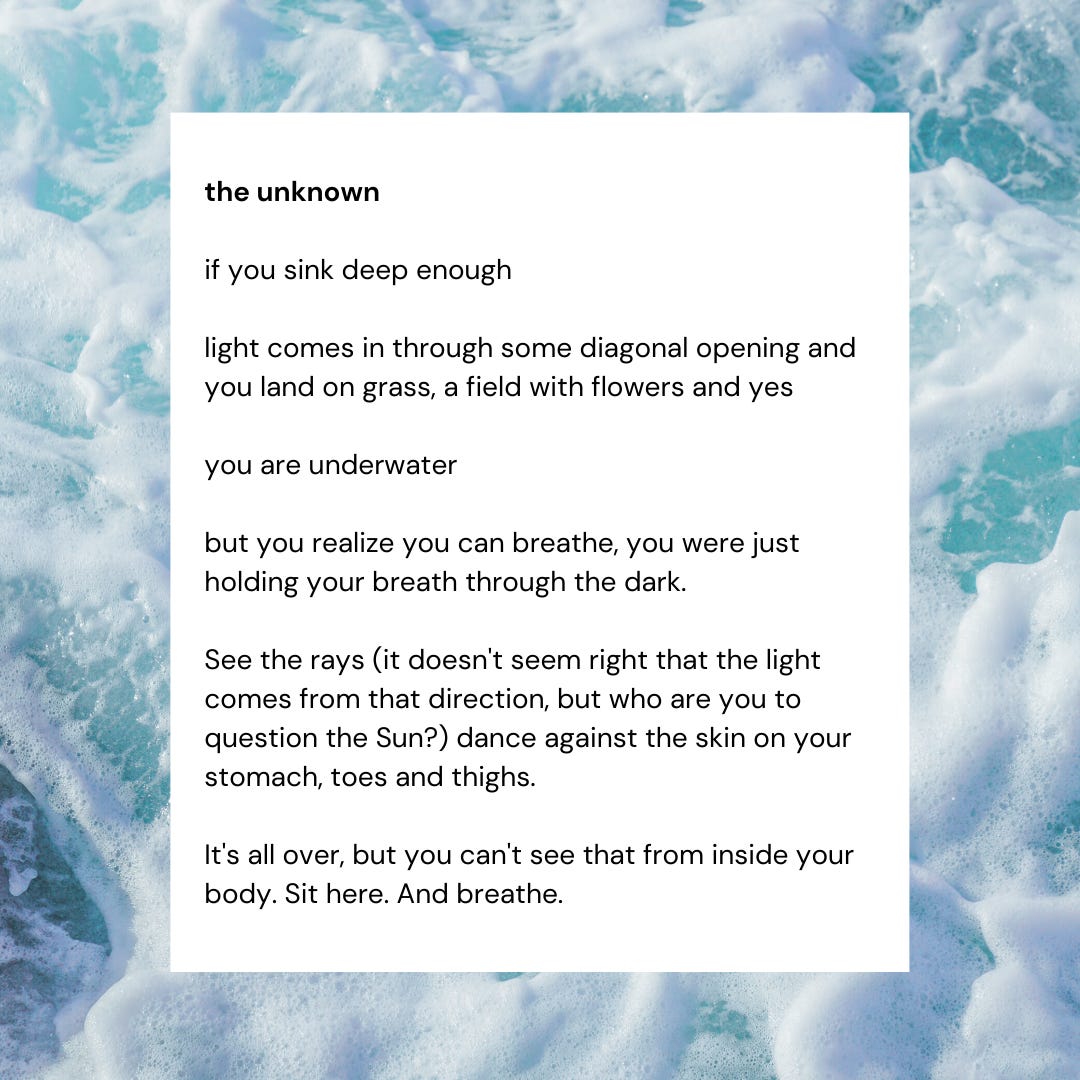 These are the words I've found. For a while I didn't have them, and that is why I was so quiet. I want people to stop asking me how I am because no one who asks seems ready to talk about life falling apart and being in the unknown. I imagine you might feel the same way. It's not easy to describe this with people you aren't sure will understand. Some will immediately go to fear, or feeling sorry for you, or wanting to do something to fix it.
I was so tired and afraid of being misunderstood, that for a long time I stayed silent. No matter how long you've felt like an alien or like you don't belong Here, it still hurts to be told you're weird (which is where my mind goes when I go through the trouble of trying to explain how I feel to someone only to get a 'huh?' in response).
I simply do not care anymore. If you get me, you get me.
There's no need to fear, pity or fix anything for anyone, really. The unknown is what it is. It's dark and empty. But I've found some places where I can feel secure, like in daily practices and a spiritual connection.
How I'm Getting Through
Being in the unknown feels like starting all over again, and this is one of the reasons I've decided to feel good. For me it's also meant 'going back' and taking care of the basics.
There's something about building a practice that is healing. Aligning daily actions with your will, but still allowing room for mistakes, experimentation, rest. So the more I make everyday choices that are aligned with what I want, the better equipped I am to deal with the space and darkness.
Finding support is the one place where I've had to do some real work. Therapy or consulting an energy healer is not always accessible, so I've gone to searching for resources that are free or relatively cheap. This is where I'm at. When I'm ready for therapy, I know where to find it, but sometimes all I need is some understanding (🗣 Xscape), to know that there is another side. Sometimes I just need to be reminded to not take life so seriously. Other times I need to dance until my feet can't hold me up anymore.
There's this rhythm that life has where the more questions I ask, the more answers seem to just come to from all over, sometimes in books, sometimes videos, sometimes The Comments. I just have to be open and pay attention.
Books
Videos + TV
The Midnight Gospel on Netflix.
MintFaery has an incredibly positive and strong presence, so at first it surprised me to hear how she talked about feeling alone and depressed. She sounded like me. And she's opened my mind to possibilities.
Witch, Please. Odin does a regular series where they talk about life and the bigger questions.
Bresi-Ando Tools for Living. I met Simone Bresi-Ando at Afropunk last year. She does some great video chats on YouTube and Insta on getting through.
Finding purpose, creating a vision, and planning how I want to live (instead of reacting).
This episode of TheLoveHour podcast helped me tap into gratitude.
Where I'm Going
My mission is to be as clear a channel as I can be for whatever Spirit wants me to do. For now and the foreseeable future that is writing. I can decide how focused I want to be on this. The more I just sit and think, the more susceptible I am to lose focus, to go into the past or to wallow about things I can't change, which leads to feeling like shit.
The more I focus on where I'm going and staying true to myself, the more free I am. So my work these days is doing what I can to stay on mission.
💃🏾 Let's have some fun, let's rock around…
Ehh-very-one!
---
Thank you to my patrons! Patron levels start at $1.
(whoops, there's no one here 😢. Probably because I haven't launched my Patreon yet.)